LuckyStar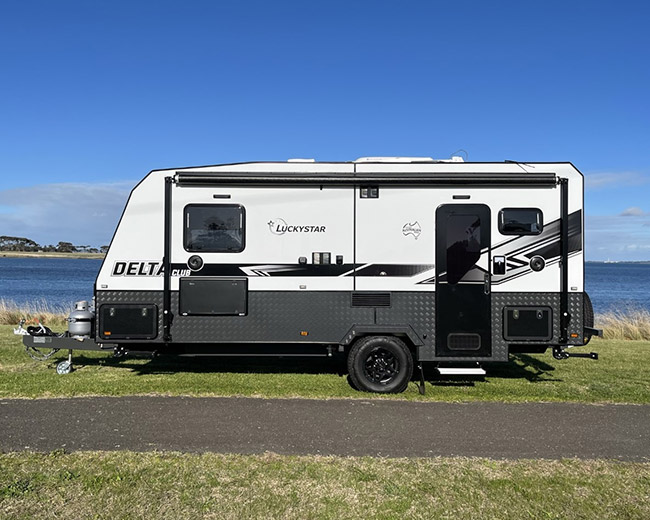 Experience Australia with LuckyStar Caravans
For adventurers and explorers, having a durable and reliable caravan is crucial. At Bellarine Caravans, we are proud to offer LuckyStar Caravans, Australia's best touring caravans. These include the standout LuckyStar Apollo and the magnificent LuckyStar Delta Club caravans, both vans are designed to make your journey comfortable and memorable. Each of our LuckyStar Caravans comes with a robust 3-year structural warranty, separate from other warranties on the individual components within your selected caravan model.
Exceptional Design and Quality in LuckyStar Touring Caravans
LuckyStar Caravans are Australian-made, designed with high-quality, locally sourced parts, and built to handle Australia's diverse climates and rugged terrain. The LuckyStar Apollo caravans we offer at Bellarine Caravans boast a range of modern features that make your caravan feel more like a home on the move. From reverse cycle roof air conditioning to a 188L 2-door 3-way tropical class fridge/freezer, 180w solar panel paired with a 105 a/h battery pack as well as a washing machine and dual pull-out pantries, our LuckyStar Apollo Caravans have it all​​! These are just a few of the qualities that make LuckyStar the best choice in touring caravans.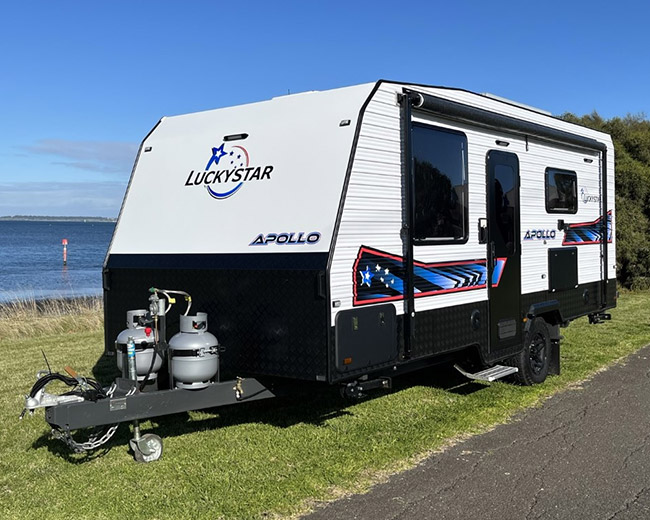 Discover the Comfort of LuckyStar Delta Club Caravans
Our LuckyStar Delta Club Caravans are another fantastic option for those planning an adventure. These caravans are designed with the same attention to detail and quality as the rest of the LuckyStar range. With a suite of superior features and creature comforts including a large and comfortable rear club lounge and a wall mounted front load washing machine, LuckyStar Delta Club Caravans are perfect for those long cross-country journeys.
Buy LuckyStar Caravans in Melbourne & Geelong From A Locally Trusted Dealer Today.
When it's time to embark on your next Australian adventure, look no further than the LuckyStar Caravans we offer at Bellarine Caravans. Whether it's the LuckyStar Apollo or the LuckyStar Delta Club Caravans, we have a variety of models to meet diverse needs, from towing capacity to amenity requirements and price point. Let our experienced sales team help you find the perfect LuckyStar Caravan for your journey.
For more information about our LuckyStar Apollo and LuckyStar Delta Club Caravans, please contact Bellarine Caravans on (03) 5274 9670 today.