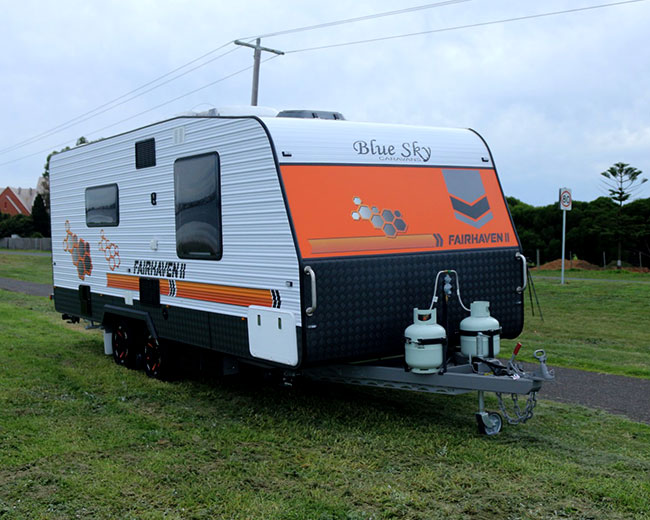 Used Semi Off Road Caravans
Are you looking to purchase used semi off road caravans in Geelong and Melbourne? With a combined 80 years of experience, our team here at Bellarine Caravans are the locally based and highly knowledgeable sales team you can turn to for the right advice and assistance today. As opposed to regular caravans, the semi off road comes with higher ground clearance and better suspension, allowing you to tackle corrugated terrain.
Used & Well-Kept Semi Off Road Caravans With an Ensuite for Sale
By stocking well known, high quality used semi off road caravans that have been designed and built in Australia, we guarantee our experts can find the perfect caravan for your next adventure. At Bellarine Caravans, our sales team will work closely with you to ensure you are presented with the best possible options available on the market.
By taking into account various requirements such as what amenities you require, your vehicles towing capabilities and your budget, Bellarine Caravans will be able to find and curate a range of used semi off road caravans options that tick all the right boxes.
Whether you're traveling on your own or with your whole family, we would highly recommend investing in a used semi off road caravan, as it will offer you more freedom while also keeping you safe and comfortable throughout your travels.
Buy Second Hand Semi Off Road Caravans From a Reputable Dealer in Melbourne & Geelong
Open 7 days a week, Bellarine Caravans are fully equipped to sell and advise you on all stages of purchasing one of our used semi off road caravans. Located in Geelong, our experts can also offer caravan services and insurance repairs, helping you maintain the efficiency and longevity of your used caravan. Rest assured our team will only sell used, semi off road caravans that meet our required quality and safety standards.
For more information regarding our wide range of well maintained used semi off road caravans, please give our team here at Bellarine Caravans a call on (03) 5274 9670.